Podcast Day 24 will take place on 4e October of this year with three in-person conferences in Sydney, London and New York, all on the same day, bringing together the best broadcasters, publishers, platforms and technology companies from around the world.
Podcast Day 24 will include:
Content, Industry Trends, Spotlight, Revenue and Research
Discover the secrets behind some of Australia's biggest shows…
Hear from the big names in the podcast world, breaking news, facts and figures
Get a behind-the-scenes look at new companies that are making a splash
What are the business opportunities for podcasters and networks and what does the data tell us about this new audience.
Attendees in Sydney also get free access to videos from all podcast sessions in London and New York.
Tony and Ryan (Ryan Jon Dunn and Tony Lodge) will take the stage and share how they went from radio to podcasting in a multi-million dollar deal with Spotify.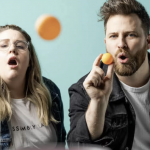 Toni and Ryan have built a cult following for their podcast since its launch in August 2021, in less than a year they had 1.3 million downloads in a single month.
How did they transition from radio to podcasting, what can we learn about the role of video or "vodcasts" and how do they plan to continue innovating since signing with Spotify.
Prithi Dey from Spotify will chair the discussion.
Starting a New Show: The 50/50 Rule.
It's easy to focus on the idea, but what else should you consider when launching a new podcast?
Find out how the team of LiSTNR discuss launching a new podcast and what are the five rules for success.
With over twenty-five years in the entertainment industry, Executive Director of Podcasting LiSTNR, Tuning Tothill sharing ideas and proprietary knowledge.
What makes a narrative podcast compelling?
Siobhan McHughConsulting Producer, The biggest threat explains how to take a story and turn it into a bingeable sound.
In this session, the internationally acclaimed podcast producer, documentarian, oral historian, writer, journalism scholar, podcast reviewer, podcast consultant and author of The Power of Podcasting discusses tips, tricks and best practices to use story, sound, script and episodes to achieve the most compelling storytelling through sound.
Some of the confirmed speakers for the Day 24 Podcast include:
Marc Fennell, It burns (Audible), nut jobs (Audible), and the chart-topping hit ABC/Radio Canada podcast Stuff the British stole, Scott Stephens ABC's Religion & Ethics Editor and co-host, with Walid Alyof The minefield on ABC National Radio.